I keep thinking about writing a blog on self-publishing, then I get a different idea. Today, my self-publishing research became sidetracked by the Book Editing Services page on the BookBaby website. BookBaby seems to be the Full-Service Self-Publishing company of choice these days. I'm sure there are others, but my searches, random readings, and the universe keep taking me there.
"Full-Service Self-Publishing company" sounds a bit fictional – or contradictory – to me, but that seemed the best way to describe a company that will do most of the heavy lifting for you to get your book published without going through an agent and traditional publishing house.
But, I digress in my digression.
Anyway, I want to avoid self-publishing by talking about Editing Services. Part of the heavy lifting that BookBaby does NOT provide is editing – but they have several companies they recommend.
Curious, I checked out those pages.
They all seem to espouse their brilliant editing staff (one claims 100% Ph.D.s), ability to quickly turn around a manuscript, and accept submissions on-line.
Some included their rates, one even has an instant quote functionality based on the number of words and how quick the turnaround needs to be.
What none of these sites gave me was a sense that the editors develop a relationship with their clients. If I wrote a book (a conversation for another day), I would want a qualified editor who preserved my voice, worked on a reasonable time line, and didn't cost a fortune. (All things I saw advertised.) However, I would also want that editor to be someone who got to know me.
I like getting to know my clients. I like having conversations with them, learning about them, having them argue me out of an edit. I love that many of my clients are repeat clients and that more than a few are friends. I did not get the sense that any of these on-line editing houses offered personality, let alone personal touches.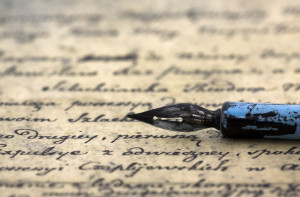 While this doesn't work for every service, I tend to have more satisfaction when I hire an individual instead of a company. First off, you can interview an individual.
Many people put a piece of their soul into their writing – be it a memoir, marketing piece, or something in between. And if not a piece of soul, then at least a great deal of effort. Why would you give that to someone you've never met for correction?
The only reason I can see submitting a manuscript to an on-line editing service: at the point I'm satisfied the message is clear, but I'm not so sure if typos or the wrong use of their/there/they're has slipped in. Anything more serious can easily become too personal for just any old Ph.D. on the internet.