Whenever I talk to business owners about blogging I'm most likely going to hear, "but what would I talk about?" So many people still think of blogs as on-line diary entries filled with details that no one else really cares about. Or, very few people care about the details and most of the rest of us think the writer a) has too much time on their hands; and b) overshares.
Blogs for a business are completely different and good for multiple reasons:
Continuously adding fresh content to your website gives you a higher SEO rating. (There are professionals who deal with SEO, and I'm not one of them.)
They give you a chance to prove yourself.
Business blogs tend to have a wide range of topics, from success stories to industry education. As long as you are providing useful information, you are proving that you are an expert in your field.
With enough content, your site becomes a resource – a place people go when they're wondering about something in your field. Once you've established yourself as a trusted resource, you're that much closer to being a trusted provider of your service or product.
Now that we know why business blogs are good, we get back to the question of topics. Actually it is easier than you think. The truth is that original content is rare. Most fresh content takes someone else's content and puts a new spin on it. And it's not stealing, as long as you credit your source. In a blog, crediting a source is easy, link back to the original content. (Oh, and that also increases your SEO rating.)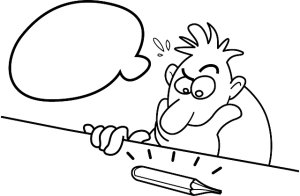 As you go along your business day, you run across things related to your business, industry, audience, and so on. When one of those things makes you go, "OH!" you are looking at a blog topic. You either: agree with the point, disagree with the point, or think the point needs more exposure. So, in a few hundred words, you sum up the point – with a link back to the source – and add your comments. Why did this thing make you go "OH!"?
I suspect, that you'll eventually have more topics than time to write blogs.
Want an example? Check out Is it Really Redundant?
-Lorrie Nicoles